creme brulee has been one of my most favorite desserts since i first had it a few years back during a brunch at the palace hotel in sf. how could i have gone so long in life without ever having creme brulee? well i grew up making flan, which was the most popular dish in my household. my mom would also make it for every family gathering, and since it was so delicious, i never thought to venture out. until i cracked my first caramel topping... a life changing moment, if you will. =)
so this week, i present to you - the creme brulee. it's so easy to make and i love using the torch to make the caramel! you see it become golden right before your eyes and it's one of the coolest things. it's like one of those reels you see on the cooking show when they speed up the process, except not, but its right in front of your eyes so it's definitely neato.
i hope you enjoy the video! more to come soon! =)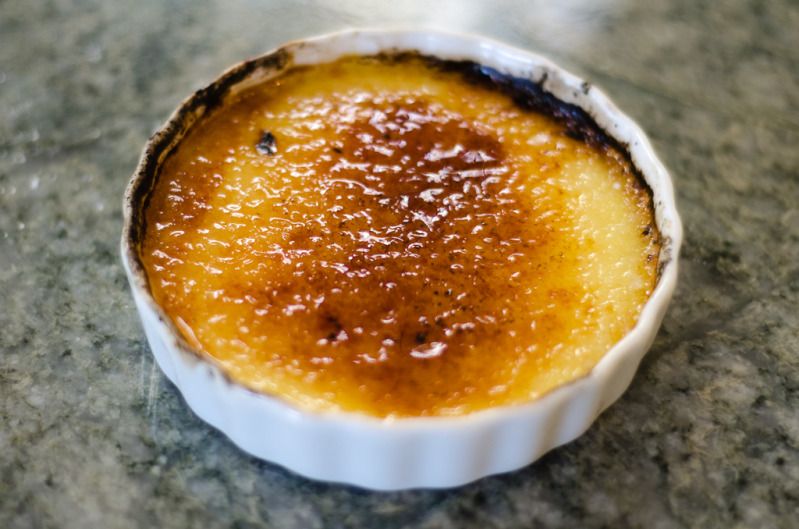 yummmmm!
Recipe Adapted from Ina Garten
Ingredients:
1 extra-large egg
3 extra-large egg yolks
1/2 cup sugar, plus 1 tablespoon for each serving
3 cups heavy cream
1 teaspoon pure vanilla extract
Directions:
Preheat the oven to 300 degrees F.
In the bowl of an electric mixer fitted with the paddle attachment, mix the egg, egg yolks, and 1/2 cup of the sugar together on low speed until just combined. Meanwhile, scald the cream in a small saucepan until it's very hot to the touch but not boiled. With the mixer on low speed, slowly add the cream to the eggs. Add the vanilla and orange liqueur and pour into 6 to 8-ounce ramekins until almost full.
Place the ramekins in a baking pan and carefully pour boiling water into the pan to come halfway up the sides of the ramekins. Bake for 30 to 35 minutes, until the custards are set when gently shaken. Remove the custards from the water bath, cool to room temperature, and refrigerate until firm.
To serve, spread 1 tablespoon of sugar evenly on the top of each ramekin and heat with a kitchen blowtorch until the sugar carmelizes evenly. Allow to sit at room temperature for a minute until the caramelized sugar hardens.